"Set in a suburban fantasy world, the film follows two elf brothers who set out on a quest to find an artifact that will temporarily bring back their deceased father."
---
My Disney Plus subscription is ending soon, so I decided to start watching Onward, Pixar's latest film that came out back in March. It was around 1 AM on Thursday and I still needed to fix my sleeping schedule, and so I told myself to only watch like maybe the first 15 minutes just to see how it was. HOWEVER, THE MOVIE TOTALLY CHANGED MY MIND and I ended up watching the rest of it anyways 😂😂 (r.i.p. my grades lol.)
For some reason I didn't have much expectations about it at first. Maybe I just thought the trailer was a bit goofy or something, but before I knew it I was hooked. It was a very fun and hilarious movie with such lovable characters (and a half), and I honestly enjoyed it A LOT MORE than the live-action Mulan that I previously reviewed 😅
The setting is a funny but interesting notion of a world that was originally rich with magic and fantasy and whatnot, but it soon became modernized because of how technology is making life a hundred times easier (like, big oof). However, before the elves Ian and Barley's father died, he left them a gift that they were only allowed to open when young Ian turned 16–and it was this legit wIZARD STAFF along with an apparently very rare gem?? Which can apparently bring their father back to life for another day?!? Yeah I know it's a really cool thing, but I just wonder how in the world their father got his hands on such a powerful gem that just ended up hidden away in the attic, LOL.
BUT ANYWAYS, for the first time Ian used magic to do the bring-my-dad-back-to-life spell, BUT THEN things went wrong in the middle of it that Ian was only able to bring back a pair of his dad's LEGS.
LOL it was so funny 😂 And because obviously legs cannot see, Ian had to bring him around on a leash and give him a makeshift upper-half body 😂 But yeah, I just found it so amusing that the elf brothers brought along their father's legs on their whole grand adventure to find another gem to fix it before the spell wears off completely and they couldn't see him again.
Other than that, I really liked the characters of the two elf brothers. From an objective point of view, I really think Tom Holland's and Chris Pratt's voice-acting were a great fit for their respective characters, and perhaps the characters are like the elf-version of them in real life, haha…? Anyways, they might just seem like typical characters, but I still really liked them and they never failed to crack me up or make me root for them! Especially Ian because he was pretty doubtful about the whole notion of magic and was a total noob at it, but then he got much better at it and gained more confidence as his brother helped him out throughout their journey!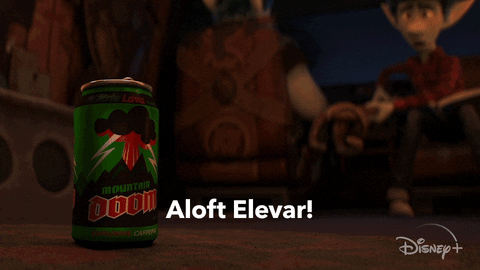 What I really enjoyed seeing during their journey was the way that Ian and Barley overcame some of the obstacles they encountered. Not only was I hoping that they wouldn't die, but sometimes the scenes were super hilarious, and overall my love for the characters just deepened ever further. And yes I was actually laughing out loud while also yelling at the characters to run, lol.
Sometimes in the plot though, I thought things kind of escalated a little too quickly, like some of the conflict between the two brothers. I was like um whoa there bro, chilll… Well that's only happened like twice to me in the whole movie, but I just thought that it was a little too sudden during those times. Moreover, some of the other obstacles they faced seemed to be a bit random or pretty typical to me. HOWEVER, I'm probably just being super picky on a PG-rated family movie that I watched all by myself 😂
But as for the ending of the movie, I really really liked and appreciated it. It was an honestly good and emotional ending, not just a typical "hooray" ending, and I just absolutely loved the overall theme that the movie was portraying. The only thing I did NOT like about the ending was that bland, final villain that just needed to be defeated because of some magical curse that came out of nowhere. But as for the characters, I truthfully admired what they ended up doing in the end!
Overall, as a Pixar film, this didn't really hit me hard in the feels like Inside Out, Up, and WALL-E did to me. Maybe it will for other people… or actually it did because I've read it in some other reviews that some people cried…? Well to me, this movie seems to be more quirky than it is emotional, but I truly think that it's just good in its own way!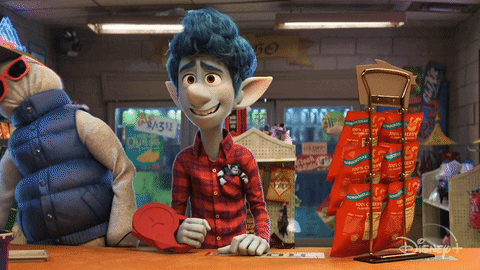 Nevertheless, this movie was definitely fun to watch, there's plenty of laughs, and I wouldn't mind watching it again with my family, just maybe not by myself lol.